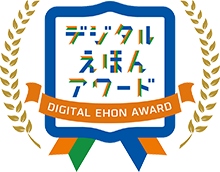 No.8 Kadokawa Culture Museum Prize
AR-de-asoberu!Manaberu!JAXA-to-issho-ni-tsukitansa
BBmedia Inc./「JAXA-to-issho-ni-tsukitansa」project team(Japan)
About
A space / exploration machine that jumps out of a book. Exploring the moon with an "AR" picture book!
Nowadays, attention is focused on lunar exploration, such as NASA's announcement of the "Artemis Program" aiming for a manned lunar landing in 2024. The lunar exploration of the Japan Aerospace Exploration Agency (JAXA), which started with the lunar orbiting satellite "Kaguya", is steadily progressing toward the "Moon Base".
"You can play with AR! You can learn!
"Moon Exploration with JAXA" is an AR picture book with the theme of lunar exploration at the forefront of Japan.
In this book, you can play by holding a smartphone that has downloaded the dedicated application (free of charge) with the spread page as a marker.
When you start the app, the person in charge of JAXA appears as a navigator. Reproduce the actual lunar exploration plan such as "Kaguya", "SLIM", and "Gateway" with 3D animation and mini games.
By reading picture books, users can move machines such as satellites and exploration rover, see huge machines over 30 m in full size, create original lunar bases with modules that are actually envisioned, and play. While learning the purpose of exploration and future development. This is a completely new learning picture book that allows you to feel closer to the space development business that is developing further toward a sustainable future.
The contents of the picture book and AR are produced based on the latest plan as of May 2020 under the supervision of JAXA.
Prize Comment
We're honored to receive this award. Thank you very much.
The entire production team is delighted.
We have heard that children are enjoying picture books at home as the number of places for learning decreases due to the coronavirus crisis. We feel this is very significant.
Learning from anywhere is a joy that only digital content can bring. We will continue to take on the challenge of using digital technology!
Comment by Juror
JAXA is teaching us about its lunar exploration. It's an exciting book for children who love space, but they can also enjoy 3D animations to explain the exploration plan, rotate the polygon model of the exploration machine 360 degrees to see the other side, experience the power of the full-size model, and learn more through the app. You can learn a lot more than just opening a book. Perhaps this is how the future of books will evolve with the power of digital technology. (Tsuguhiko Kadokawa)