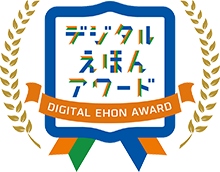 No.5 Tomoe Shinohara Prize
ExplorArt Klee – The Art of Paul Klee, for Kids
Lapisly(Spain)
About
ExplorArt Klee introduces kids to the dreamlike works of Paul Klee: his art pieces come alive, as enchanted animated scenes that children can explore inspired by their own imagination and creativity.
Favouring discovery over instruction, the interactive versions of Klee works emphasize shape, dimension, music and motion. The gentle soundtrack provides a pleasant ambiance that encourages kids to linger.
Prize Comment
We feel extremely honored for receiving the Digital Ehon Award and we want to thank the jury and all the organization staff for choosing our work as the winner of the Special Jury Prize.
This prize is really important for us as it constitutes a step further toward our dream for digital native children across the world. In fact, by bringing art pieces to life on the digital device through our art book apps, we want to stimulate creativity and imagination of today's children.
We strongly feel that an intuitive and emotional experience of art is fundamental to foster divergent thinking development, and to nurture that special ability, as Gianni Rodari, the famous children's literature master would define it, to imagine a different and better world, and to live to create it. Special thanks go to the entire team that worked with unceasing dedication and passion on this project: all our achievements would not have been possible without their commitment. Finally, our wholehearted thoughts go to our most dear Giacomo Deriu, who tragically passed away at the end of April. Our Chief Tech Artist and core-team member together with the two co-founders since the very first instants of our adventure, Giacomo contributed immensely to transforming this project into reality through his extraordinary and unique creative genius and his unconventional thinking. This Award is dedicated to Giacomo.
By Lara Mezzapelle and Debora Albano, Co-founders of Lapisly


Comment by Juror
The colorful illustration was just endearing! Art piece that assembled power of art from Spain♪ I loved the original world with its warm texture☆*:.。
Tomoe Shinohara (Talent & Artist)